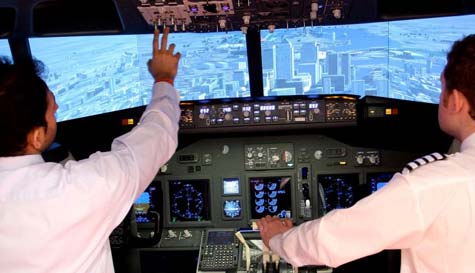 Have you ever been onboard a plane and wondered what it would be like to fly one of these massive jets? Well with our stag party flight simulator experience in London, you and the guys will get as close as you possibly can to the real thing without becoming a fully qualified pilot.

You'll step into a state-of-the-art Boeing 737 simulator cockpit that will be the home of your flying session. After the experienced pilots have shown you how it's done it's then down to you as you take it in turns to "bring this bird home in one piece"... or leave little piece of stags scattered all over the virtual runway.

Choose from a wide variety of flying locations and weather conditions as you take off and (attempt) to land your plane in an experience that's sure to challenge the boys to the max. But be warned, even stags who've never played a flying game on the Playstation can soon become 'Mavericks' with some top tips from our instructors. Or alternatively, they could crash and burn in spectacular fashion, much to the enjoyment of the rest of the stags.

During your session, you'll also take part in a contest to see who can pull off the best landing of the massive simulated Boeing 737 jet. The simulator is ultra-realistic and comparable to the most sophisticated machines used in professional flight training simulators.

Our flight simulator experience is an awesome inclusion to any London stag party, it's a great way to spend a few hours getting some flying action that is so detailed you may as well be doing the real thing. Cross winds, rain and even snow could be thrown your way as you wrestle the controls to submission to guide your jet safely home. It'll take your breath away...