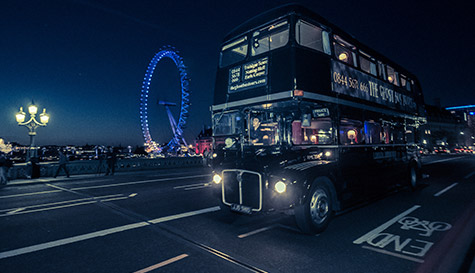 Gone are the days when the groom would hide under his duvet and read thrillers by torchlight, he's a big boy now! A grown man about to enter a lifetime of wedded bliss. So surely he can handle this spooky stag party Ghost Bus Tour in London, right? WRONG! These freaky tales are enough to send a shiver down anyone's spine! The city is teeming with alleged ghost sightings, haunted history and gruesome stories, we dare you to hop aboard the ghost bus and discover them!
Your tour begins at Trafalgar Square and works its way around the city, ending at the London Eye. Getting there is super easy, and train stations in the immediate vicinity include Embankment tube station and Charing Cross station. Your tour guide will greet you and welcome you on to the UK's only comedy-horror theatre sightseeing experience on wheels! This freaky bus has entertained the likes of Johnny Depp, Amanda Holden, Little Mix and many more.
You'll discover the fascinating, grim, colourful history of the capital as your tour guide puts a hilarious spin on the legendary sinister tales. These stories are almost as freaky at the groom's dance moves… almost. Trust us, once you've unearthed the city's dark, ghastly history, London's thriving nightlife won't be the only thing keeping you up at night!
We can't think of a better way to see the iconic, world-famous sights and satisfy the group's thrills and spills all at once. Even the scaredy stags will get a kick out of this theatrical, comical, freaky experience. Forget dusty notebooks, forget 'Willie, Willie, Harry, Stee', this is history like you've never known before. Take a trip back to the days of old… 'cos you ain't afraid of no ghost!
Famous landmarks you'll visit include:
The Houses of Parliament
The Tower of London
Downing Street
London Bridge
Tower Bridge
St. Paul's Cathedral
Westminster Abbey