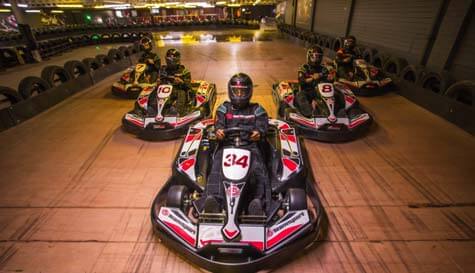 Go karting in London is a time-honoured stag classic and always a winner with any group of competitive friends. Let's face it, most of us think we're a bit hot behind the wheel. We are all pretty sure we could give Clarkson and Hammond a run for their money in a reasonably priced car. And to a man, every last one of us loves the chance to put our foot down somewhere legal and feed that need for speed.

On a London stag do you can now enjoy the ultimate in indoor go karting. This amazing venue is up there with the very best, and is the first in the world to offer super lightweight Biz Electric Eco Karts. Far lighter than their petrol-powered counterparts; these bad boys reach upwards of 40mph, which feels chuffing fast when you're skimming along with your backside inches off the tarmac, and, as they're eco-friendly, you won't spend the afternoon sucking in petrol fumes. Our all-indoor London track actually features two tracks over two floors, which convert into a single track totalling 400 metres, so in karting terms this is HUGE!

Whether you claim to be the Stig's long last kart driving cousin, or you're a complete novice, our London go karting track is quite simply epic!