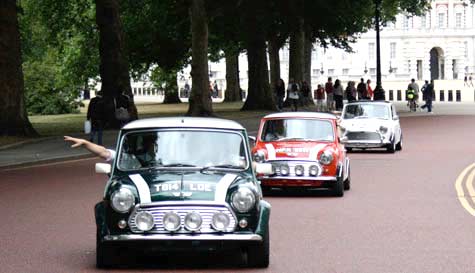 "Hang on lads; I've got a great idea" - a mad dash caper through London, directing a driver with a boot load of gold away from the bobbies and towards the city's most famous sights for a treasure hunt photo challenge.

Our London Italian Job stag party will have the stags split into groups of three and zooming around the capital in iconic minis. With all the stags kitted out in the memorable blue boiler suit and tweed flat cap of the beloved 1969 Italian Job, you'll all have no problem pretending you're Charlie Croker as you race to claim the ultimate stag prize... bragging rights and a complimentary bottle of Champagne!

See London as you've never seen it before with our London Italian Job. Not only will all the boys get to see the capital's highlights from the seat of a gorgeous vintage Mini, but none of you will have to face the busy urban driving. It's a competitive stag activity that rewards expert navigators and teamwork, so expect plenty of mistakes along the way!

Whether you've always wanted to see the capital or the groom's an Italian Job fanatic, you can't go wrong with this epic combination of madcap style and slick city driving. This unique London stag do activity is sure to blow the bloody doors off any other stag party the boys have been to!