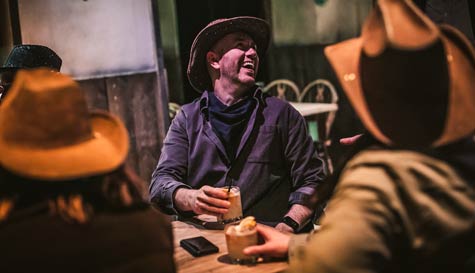 Who wants a normal night out? This is a stag weekend, the rules of 'normal' really don't apply and this fantastic bar is the perfect setting for a totally different kind of night. Firstly, this Wild West bar is the only bar that actively encourages you to bring your own booze with you, in fact, it's part of the event.
The fun begins on arrival when each guest is given their own Stetson hat to wear (along with other outlaw themed touches) to make sure you fit in, because around these parts if you stand out too much you're likely to end up looking down the wrong end of a six-gun.
You'll then head to your tables, passing your drink over to the bartender. He'll whip up personal cocktails for you based on the drink you brought with you (we recommend 35cl per two guests). To fit in you can play a few hands of cards or dice games while enjoying your drinks. Before too long, things really liven up as some of the saloon's crazier characters act out a tense storyline and yes, they are sure to drag some onlookers into the story, so keep your wits about you because sometimes it's best to draw first and ask questions later.
After the fun in the main saloon, you can then move on into the General Store with the rest of the party crowd to keep the night going and purchase more drinks. It's an evening full of laughs and ideal for a group of lads on a London stag do. You can even give the guys outlaw names; Texas Tom, Three-legged Luke, Billy the Hid-eous.
"Good friends, great drinks, big laughs and a 10-gallon hat's worth of crazy goings-on, well I do believe it's goin' to be a night to remember boys!"
* We recommend you bring 35cl per two guests to achieve four drinks each.