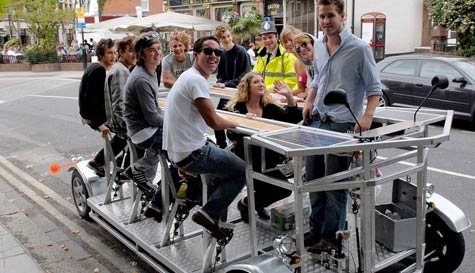 There's always that tough question from wives and girlfriends whenever you get back from a stag weekend "So what did you lot get up to?" With our fantastic party bike you can tell the good lady in your life that you did some sightseeing and went on a bike ride. The fact that you happened to take along your own beer on what is effectively a mobile bar is neither here nor there.

This fantastic party bike is without doubt the best way for any London stag party to enjoy the sights. You'll be met by the guide who'll welcome you all aboard, show you where to store the beverages and then take the wheel as you set off for an totally unique tour of the capital.
But that's not all, as well as a hilarious day of fun around 'old London Town', you'll also get to end your night in style with guestlist entry to one of the West Ends top clubs. You and the guys can skip the queues and get instant access to one of the hottest clubs in one of the greatest party cities in the world to party like true stag legends.
Due to health and safety (damn those men in hi-viz jackets) the party bus cannot serve you alcohol, so the simple solution is to let you bring your own, however, please note you can only bring beer or cider (no spirits) and all the party must be sober at the time of departure to board the bike. For your own safety, anyone deemed to be too inebriated to ride at any point of the trip will also be asked to disembark.

But this is a party bike so the emphasis is all on having a laugh and turning heads as you steam through the (not so) mean streets of old London town. The bike even has an iPod dock allowing you to play your own tunes so why not create a playlist dedicated to the groom and his lemming-like leap into matrimony:
It's the End of the World as We Know It - REM
White Wedding - Billy Idol
Another One Bites the Dust - Queen
Love is a Battlefield - Pat Benetar
Love is the End - Keane
Story of a Lonely Guy - Blink 182
There will be a midway stop at one of London's fantastic boozers to make sure all the stags are suitably hydrated before heading back to the starting point.

This is a hugely popular activity so please enquire early to avoid disappointment.