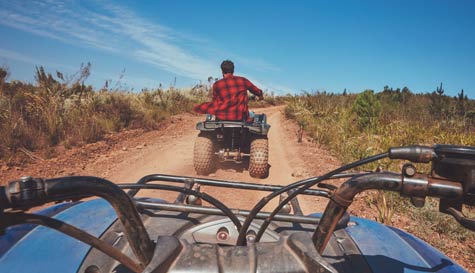 One of the most exhilarating activities for any stag party is quad biking, and our London quad bikes stag party will certainly provide huge thrills and big laughs to the max. After getting kitted up and ready for action you'll receive a safety briefing before you leave the safety of the tarmac and take on the challenge of the off-road. These massive Yamaha Breezer bikes are the real deal at 125cc and will see you slicing your way through any terrain you point it at with the greatest of ease, so even stags with less driving experience can show up mates who have bragged about their 'driving skills' on the day.

But first, you'll have to take on this multi-terrain course filled with obstacles for you to find a way round, although with this much power at your disposal, you're more likely to drive over what's in your way, unless it's a tree. Trees have a pretty good track record when pitted against quads. Carve your way through some of the grimiest terrain in the capital that is sure to put your driving skills to the complete test, as the constantly changing track demands a level of focus usually reserved for that stagger into bed after a night on the town where you really, really don't want to wake the missus up.

This is a must for any stags that are looking for an adrenaline-fuelled quad biking activity for there London stag do; it's an excellent way to create some quality banter for the rest of the big weekend.