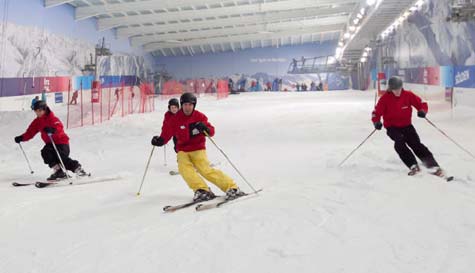 If you're a stag party full of adventure seekers you can now hit the slopes with real snow without all the hassle of getting on a plane, tucking into a bag of peanuts and waiting for your luggage to finally find its way to you.

Step out of the sun and onto the UK's largest real snow lesson slope (the site's main slope is 160metres!). If you've always been handy on a skateboard and fancied trying your board skills out on snow this is ideal. Hardcore boarders can get their fix or complete novices will get to try something completely new. The site offers a number of winter sports and activities for the stags to tackle, including skiing, snowboarding and sledging.

There are a range of optional extras that'll help you adjust your snowsports day to suit the needs of your stag do such as hot lunches to fuel the lads for more action or extra time for activities.

Even those that struggle to stay upright will get to have a really good laugh with high-speed thrills and a softer landing than most sports offer. And there's the added bonus that you might get to see the groom completely wipeout and land with an epic face plant; you'll want your cameras at the ready for that masterpiece!