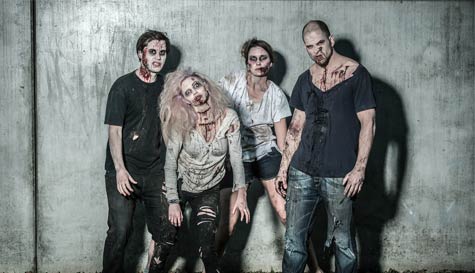 Get set for some hilarious yet terrifying live-action gameplay with our stag party zombie escape game.
This is a fully immersive experience that really will separate the stags from the boys. The premise is simple yet deadly; locked in a room you have just sixty minutes to solve the riddles and problems and escape. The slight snag in this seemingly easy task is the zombie that has been chained to the wall. As time passes the chains get longer and longer, allowing the zombie to roam further and further into the room. Hunting for fresh brains to eat (so at least a couple of the stags should be safe!)
A gripping mixture of Saw, The Cube, The Crystal Maze and requiring the detective skills of Sherlock Holmes you'll need to keep your wits about you and your brains inside your heads, rather than being gripped between undead teeth! The room holds up to 12 players at a time, that means you can always work out who is the 12th man you can potentially afford to become 'dinner' in order to buy you more time. Although chances are once the taste for blood is up you'll all soon be left shuffling along, with no grey matter left, looking for your own human snack.
Racing against the clock the game is brilliant, at times complex but always energised. You'll be near frantic as time runs out, staying cool under pressure is key. You'll need real teamwork as your own knowledge, past experiences and personalities are probed and revealed as you search for the truth and eventually freedom.
60 minutes...
One hungry zombie...
No sign of a key...
And the clock is ticking!