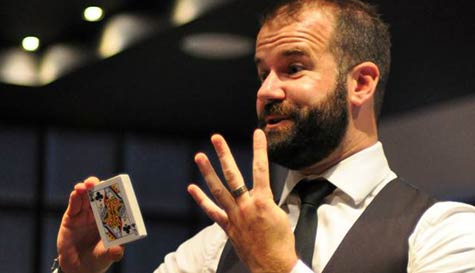 OK, we've all seen the likes of Dynamo, David Blaine and Troy on TV and wondered "Just how the **** did he do that?!?" Well now's your chance to find out during this superb session of stag party prestidigitation.
There was a time when magic was seriously uncool, blokes in dinner suits pretending to saw women in half and producing mangy looking rabbits from hats. But magic is now seriously cool. Street magic has blown the old guard away and rather than large illusions the craft is now all about 'close-up' magic which really does wow audiences. Add some funny patter, a few catchy lines, some hot girls in your 'audience' and you become an instant hit! Magic, or more importantly, fun/funny magic is definitely one of the easiest ways to engage a girl in conversation, once you've got her looking at your palms, if you're slick you'll have her eating out of them too.
The session is led by a professional magician, who makes his living wowing audiences all round the world and really does know his stuff, in fact when you shake hands with him make sure you check to see your watch and rings are still in place afterwards.
You'll start by learning a few relatively simple tricks, along with that will come the basic skills you can then use in all kinds of sleight of hand stuff that really does look stunning up close. He'll work with all the guys one-to-one so that everyone will get a real hands on experience and walk away able to impress any casual audience with some killer tricks.
"Now that's magic!"