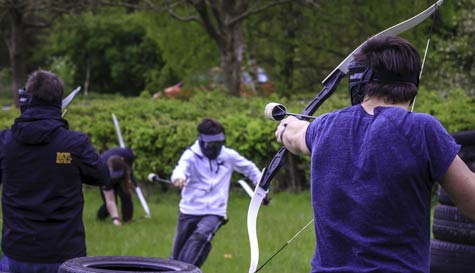 Here at StagWeb we're pretty sure we know exactly what most of our stag groups need:
"Is it weird?"
Yes
"Is it fast, competitive and dangerous?"
Yes
"Can I shoot the groom?"
Yes
"Repeatedly?"
Yes
"Game on!"
For those that have never seen our Maidstone archery tag before, it's a superb hybrid of archery and paintball, but instead of firing paintball (requiring many of the stags to spend hours redoing their hair and applying more fake tan... you know who you are...) you get to shoot each other with arrows.
Now before you point out that it's all fun and games until someone loses an eye, this is no battle of Hastings so the groom won't be "doing a Harold". The arrows you'll be using are foam-tipped, so while they fly straight and true, and bloody fast, they bounce harmlessly off without any life-threatening injuries. Even paintballs can leave a few bruises but you can repeatedly shoot the groom (and you know you want to) without leaving mummy's little soldier with a single mark, which means the bride-to-be won't be angry with you for leaving the groom so marked that the wedding photos look like he's got mumps.
The game is fast-paced and hugely competitive as you battle it out to achieve a number of team objectives. The full-contact archery battle takes place on a game zone/battleground which is covered in obstacles, inflatable bunkers for you to dodge, weave and hide behind. Depending on the time of year the event can take place either in or outdoors.
If you're looking for a new, competitive combat-charged challenge that will get all the guys fired up ahead of a great night out then our Maidstone stag party archery tag is a great way to do battle before celebrating victory with a few refreshingly cold shandies. "Gentlemen, I salute you!"