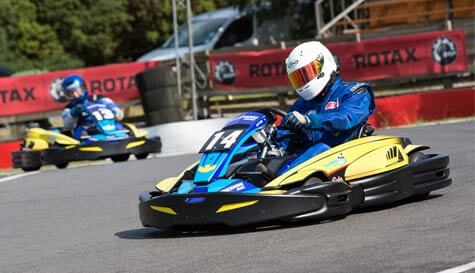 If you want wheel to wheel action that will finally settle once and for all which of the lads is fastest behind the wheel, our Maidstone stag party go kart racing circuit is one of the best in the country! This is a professional circuit where Jenson Button and Lewis Hamilton honed their craft, you can be safe in the knowledge that if it is good enough for F1 world champions, it should be perfect for your stags to get sideways.

Your session will last around 2 hours - starting with practice and qualifying laps, then followed by a non-stop 30-minute endurance race. Racing amazing 390cc RT8 karts, you'd best get ready to lock horns and see who wins bragging rights for the weekend!

And these karts are beasts! There are of course nil points for spinning 180 degrees, however, there's nothing funnier than watching the groom get cocky and end up parking it on the tyre wall.

Fast and furious, this premier activity also has the added bonus of giving the lads some real wheel to wheel stag competition. Forget Gran Turismo, the lads might think they're like **** off a shovel in front of a screen but how will they cope racing at our Maidstone stag party go karting track?

Why not double up on the fun and add one of these kick-ass activities, available at the same site?
Laser Combat - similar to paintball, laser combat has the advantage of using lasers instead of painful balls, meaning unlimited ammo and mayhem!
Quad Biking - Superb all-terrain 4 wheel 125cc quad bikes. Extreme off-road action.
Powerturns - Will quite literally turn on a stamp. These buggies pull wheelies, are quick, agile and simply brilliant to drive!
Please note - The activity may be cancelled in extreme weather conditions. In wet conditions, drivers are supplied with wet over suits.