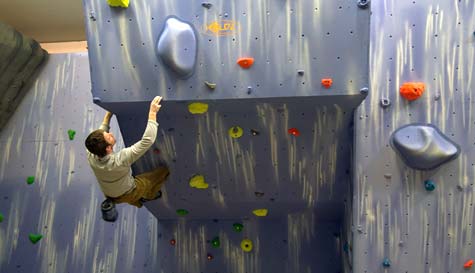 With one of the largest indoor climbing walls in Europe at our Manchester facility, the lads will have the perfect place to put their Tom Cruise Mission Impossible 2 impressions to the ultimate test. Hanging on by fingernails, dangling many metres above the ground and searching frantically for that next foothold; nothing gets the heart pumping like free climbing.

Get the stag party off to an adrenaline-pumping start or work off those nagging hangovers with a high octane activity like no other. Our Manchester indoor climbing centre offers free climbing so the stags can go at a pace that suits them. They'll pick their ascents and routes with nobody waiting below them as they cling to the wall trying to decide whether to go up or come down.

Our Manchester venue also offers bouldering for those stags that would prefer a challenge at ground level. There's top-rope climbing too, so get your harnesses on, grab a climbing partner and try and conquer some mammoth walls with your fellow stag calling out your next moves from far below.

Indoor climbing is an awesome way to get the lads off the couch and out of the pub for a session of heart quickening stag carnage. With expert climbing instructors on hand throughout the day, you won't have to worry about getting the groom back in one piece either.