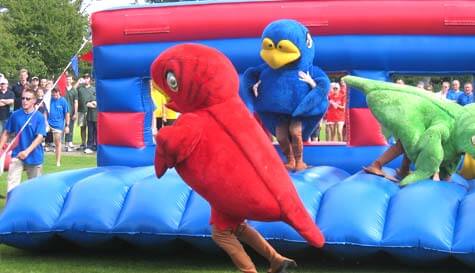 BBC Manchester was the original home for the massively popular TV show of the 70s and 80's It's a Knockout. What was unmissable viewing for your parents is now the stuff of stag party legend as you can now take part in inflatable games using props, costumes and games from the original shows.
This is stag party mayhem at its finest. Can the lads carry pints on their heads over an inflatable obstacle course? How will they copy climbing up a slippery slope while dodging foam and water? What happens when they have to wrestle dressed as giant penguins? These are of course important questions you've probably never thought you'd need to know about your close friends but in order to rack up points and take the title each of the stags will have to stand up and be counted, before probably receiving a cold wet sponge at high speed right in the happy sacks.
This is an open event, meaning you'll be lining up against other lads on their Manchester stag do and some nubile and energetic hen parties. It's a giant inflatable party which requires a level of sporting excellence and sheer will to win, without any regard for how wet or messy you're going to get.
The day is all about laughs and is a brilliant way to enjoy some friendly competition while laughing uncontrollably at just how often you'll manage to stitch up the groom.
And you'll be joining some big names who are among the sporting alumni who took part in the show back in the day including;
John Cleese
Gary Linekar
Frank Bruno
Tom Jones
Jackie Stewart
Steve Cram
Meatloaf
Princess Ann
Prince Andrew
Jane Seymour
Michael Palin
Nigel Mansell
John Travolta
Christopher Reeve (Superman)
Griff Rhys Jones