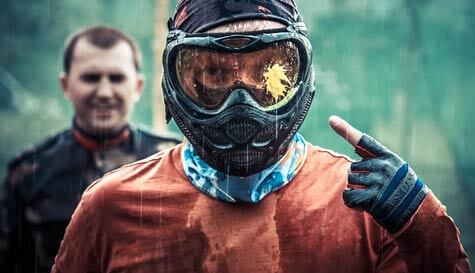 Our Manchester stag party paintballing offers stags an action-packed session of strategy, teamwork and tactics. It's no wonder it's become a stag party classic: it's epic! You no longer have to act out your soldierly daydreams on the virtual battlefields of Halo or Call of Duty. Go it alone or express your inner tactician in a series of testing, competitive and chaotic games of paintball. There's a mix of game zones and mission objectives to suit everybody's styles and keep things fresh for the duration of your session.

Based in a huge and dense patch of woodlands, our Manchester stag party paintballing site has been the venue for many professional paintballing teams because of its emphasis on a fast-paced, frenzied style of play. The venue caters perfectly to those looking to mimic the slick, lightning-quick moves of Statham and Van Damme.

Have a quick word with our Manchester stag party paintballing marshals upon arrival if you're looking to give the groom an especially hard time. With all of the game types adjustable to make the groom's life as uncomfortable as possible, this will be like no other paintballing day you've had before.

After a non-stop day of exercising your inner one man army, you'll have plenty of banter for the pub trip afterwards; losers pay of course.
Why not add…
…even more crazy challenges to your Manchester stag do. Get a great deal on a second event at our Manchester activity site.
Ask our team for more details.