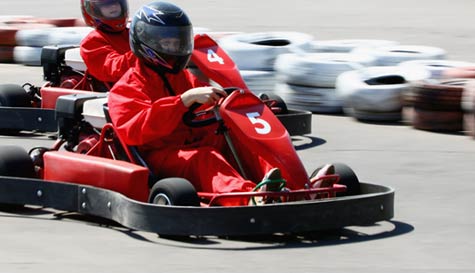 Our Marbella stag party go karting track is one of the best in Spain and plays host to national karting events. With up to 20 karts on the track at a time, it's the perfect place to get fast and furious.
The pristine track stretches out for 1588 metres of wheel to wheel stag action. This isn't just about the need for speed, or even the hope of watching the groom park it spectacularly on the tyre wall, this is a chance to finally settle the argument once and for all over who is the best driver. And who should stick to taking the bus back home.
The session will start with a quick safety briefing; you'll then get a rundown of the race rules before meeting your mean machines. Each of the stags will be kitted up with a helmet and race suit (make sure all the guys have enclosed footwear - no sandals or flip flops - or they might not be allowed to race). Once the guys are kitted up you can get everyone together for a quick team photo before taking your seats for a session of fast and furious fun.
You'll begin with practice then qualifying laps. Your times will decide your grid position for the finale. It's then go time! There'll be a podium presentation for the winners. Humiliation for the losers. Game on!