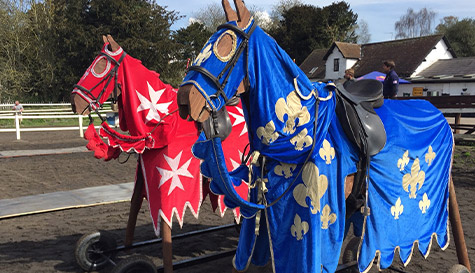 With this truly epic jousting activity you and the boys will have the chance to go back to the days of yore, when men were men, knights were bold and anyone wearing skinny jeans would have been considered a sorcerer and burned at the stake!

Now, this is no Disney-esque "Ye Olde Worlde" fun show where you'll all dress up in costume and have your pictures taken. This is full-blooded stag combat of the highest order and quite frankly not for everyone. You'll learn sword skills and exactly how to use them when kitted up in full medieval plate armour.

Learn the genuine tricks and skills used by knights as you compete in tournaments with wooden horses and lances. You'll get to master the lancing of the 'Gold Rings', strike the dreaded spinning targets and spear the 'Peasants Heads'. You'll learn a choreographed broadsword fight, straight from the movies, before taking up your longbow and attempting to split the arrow in the archery target (not as easy as it sounds, trust us.)

Once you've mastered lancing, striking, spearing and sword fighting you'll then take part in the ultimate stag competition. This will see you put into place all your newly learnt skills - prizes are awarded for the most points and the losers have to face the stocks! The winners will finish by taking on the perilous Black Knight in a mini round of jousting which will see you attempt to confirm yourself stag champion.

There are upgrade options with this terrific activity - you can take part in half-day or full-day packages, or an evening of medieval entertainment to set the pace for a great stag night. You can choose to add on a hearty, pub buffet lunch or even a huge hog roast with plenty of ale for the evening! This is an excellent activity for any stags - add that extra kudos to the weekend with a highly unusual and terrifically fun experience.