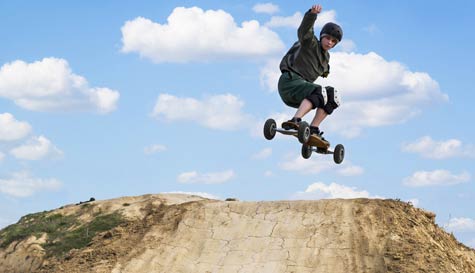 Whether you were a skater as a teenager or you once thought of yourself as a ski bum, chances are some of the stags used to be pretty handy at going really quickly on boards. Mountain boarding combines the two immensely popular sports for a versatile action sport where stags can carve up the hillsides without the need for snow or moulded concrete skate bowls. Pro or a total novice, you'll all still have a total blast with this high octane thrill ride!

Our mountain boarding centre will introduce stags to the sport at a steady pace. They'll start the shaky lads on small slopes so they can get used to the feeling of different terrains and speeds while letting those comfortable on the boards spend their time on the expert slopes. You'll be required to strap yourselves onto one of these four-wheeled mega boards with deck bindings and then learn as you go, experiencing different levels of steepness and a variety of terrains.

Tackle grass hills, woodland, gravel tracks and various other environments as you compete with the boys to find the mountain boarding king. Alternatively, wipeout and face plant with grace, agility and creativity as you attempt to turn at speed without ending up with a face full of dirt or a very sore backside. You'll want to bring a camera to record the successes and failures of your mates, but mostly just to record the failures.

Providing stag competition, endless banter and adrenaline-pumping thrills, our stag party mountain boarding is the ultimate action sport!