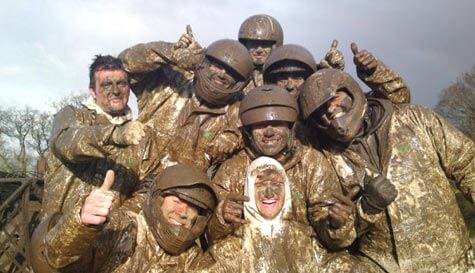 We're going to say this very carefully... Mud. Buggies. Are. EPIC!!!

If you're looking for all-out action in the craziest racing machines since Jenson Button challenged Lewis Hamilton to a shopping trolley Grand Prix (allegedly) then this is it.

You'll be going head to head and wheel to wheel in these formidable racing beasts so don't expect a soft ride from these bad boys, they chew through any terrain with up to 400cc engines and delight in sending you sideways at approximately "Aaaaaarghh!" miles an hour.

All stag groups need some healthy competition and mud buggies deliver that in thick globules of mud that you'll be sending up into the visors of your rivals. We certainly wouldn't be over-egging the mud pies to say that this rates as one of our most loved activities.

The grand final of this exhilarating sport will see you properly destroying the lads and finding out whose champion once and for all. It's then a given that the grand mud buggies champion should be bought a drink/s from the loser/s - which could mean a good opportunity to score some beers.

Forget F1, as stag parties go this is the pinnacle of lad racing. Although try not to get too eager, remember they go so much faster when they're not sitting wheel-side up. Gentlemen... Start your engines!