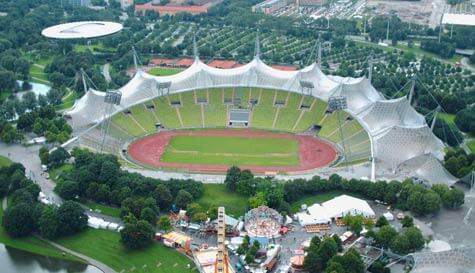 As Munich stag do activities go, this one really is epic! You'll be testing the strength of your Calvin Kleins to the max as you scale the dizzying heights of one of the world's most iconic sports stadiums. Under the guidance of the expert instructors you'll get a complete tour of the stadium the hosted the 1972 Summer Olympics, Euro 88 final, and 3 European Cup finals as well as having been home to Bayern Munich for a number of years.

The views from the top are equally as impressive as the stadium's sporting pedigree as you see across the Munich skyline and in good weather, you'll see the Alps and Zugspitze, Germany's highest mountain. You'll actually be walking across the stadium roof, which isn't something you get to down on your average Saturday afternoon, no matter how long you've held your season ticket.

But what goes up must come down, and for hardy stags that means either abseiling of the "flying fox" which is a superb zip line which will get you back down to terra firma at a rapid rate of knots. The line starts at 35m (114 ft) and stretches 200m delivering you trackside, in more or less one piece. Hopefully.

We would politely point out that this really isn't for everyone and while yes, many people have made it to the top this is still a huge pinnacle for any lads who haven't got a stomach for heights so this is definitely one activity that will separate the stags from the boys.