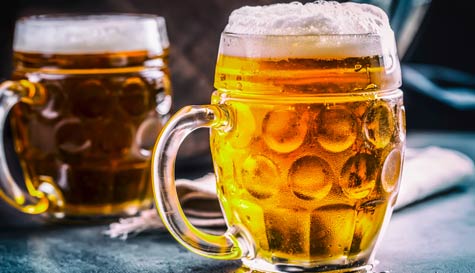 Just like their penalty taking skills and 90's man-perms, the Germans have a history of creating brilliant beer. While you might not be able to crack the secrets of their penalty-taking you can at least soak up some beer knowledge.
You'll be shown around a superb brewery by the friendly staff. If you're a proper beer lover (and we suspect you are) then this will be like going into the factory with Willy Wonka. Except instead of chocolate and funny little orange people this fantastic day is all about the beer. And if you start seeing funny little orange people, you've had too much beer. You'll be shown the inner workings of the brewery while learning about ingredients and technique, the homebrewers among you could really learn some top tips.
But the day just keeps getting better. During the tour, you'll stop off for a 30-minute tasting session. You'll never taste beer as fresh as this, straight from the brewing process. Mmmmmmmmm.
And that's not all! Yeah, like an English goalkeeper facing the German penalty line-up, the hits keep coming. After all the beer you'll sit down to a slap-up 3-course, traditional dinner. It's proper man food and the beer and dinner combination is a true taste of Bavaria.
Dumpling soup
Roast pork, dumplings & coleslaw
Apple strudel, vanilla sauce & nuts
Beer
You'll have one beer each with your meal. Well, we don't want you getting dehydrated.