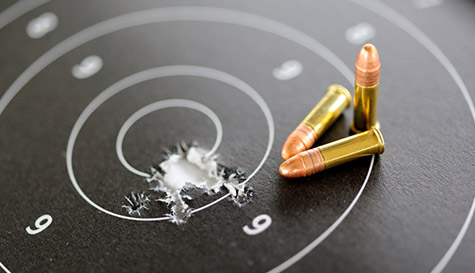 If you're looking for something that's a bit different, something that'll wake the boys up and set the day off with a bang, and something epic that you'll remember for years to come, then Munich stag party Target Shooting is the one! Germany is well known for its brilliant brews, and rightly so, but lesser known is their range of seriously cool firepower, which is ready and waiting for your trigger itchy fingers…
Your instructors will give you and the boys a vital safety briefing and teach you how to master the art of target shooting. They might make it look easy in the movies, but it doesn't matter how many times you've watched James Bond, this is the real deal, and safety is paramount. Once you've picked up some useful top tips (i.e. don't aim at each other) and you're rifle-ready for this thrilling sport, it's time for to bring on the healthy competition that's essential to any brilliant stag do!
As it's a competitive activity the lads will be shooting against (not at!) each other. Discover who comes out Top Gun, and who couldn't hit Kim Kardashian's backside with a bazooka. You might not shoot like 007 in real life, but with twenty-five bullets per person, you can give it a bloody good shot! You could even add a little wager to make things interesting (loser buys the beers!). We can't think of a better way to make the groom's boyhood dreams come true.
There are four different packages available:
AK-47 25 bullets each
Revolver 25 bullets each
Pistol 'Glock' 25 bullets each
Schmeisser AR15 M5FL 25 bullets each
Please note:
Prices will vary. Speak to your Destination Specialist for more details!
You won't be allowed to shoot if you've been drinking or are clearly suffering from the previous night out, so save the boozing as your reward!