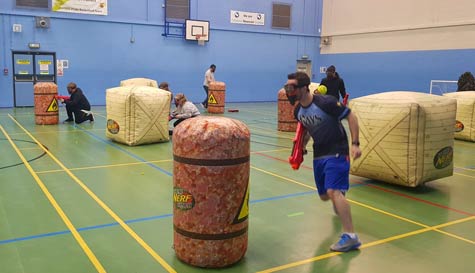 Nerf! It was the greatest invention of your childhood. A chance to shoot younger siblings from point-blank range. Repeatedly. Neighbours, pets, crockery, family heirlooms, older relatives, nothing was safe from your sharpshooting. And now it's time to put those years of practice to good use in the Nerf war to end all wars.
On arrival for your stag party Nerf war, you and the guys will be kitted up with safety masks and blasters. You'll then learn vital tactics and how to lay down the most fire as a team. Once everyone has learnt how to use their guns it's time to pick teams.
Making sure the groom gets picked last, naturally.
Then get your game faces on ready to 'bring the thunder!'.
You'll either have an indoor or outdoor battle zone depending on the weather. The area will be covered in obstacles and barriers to hide behind. The all (Nerf) guns blazing way you get around the field could be the difference between victory and a face full of Nerf darts.
Technical Info
• The Apollo XV-700 blaster has a spring-action cocking mechanism.
• Unlike your opposing team that has a cocking groom and other assorted cocking enemies that from here on will simply be targets. Easy targets!
• The blaster comes with an easy-load magazine and 7 high-impact rounds and fires at a velocity of up to 30 metres per second.

Stag party Nerf war, it's the last word in stag warfare.