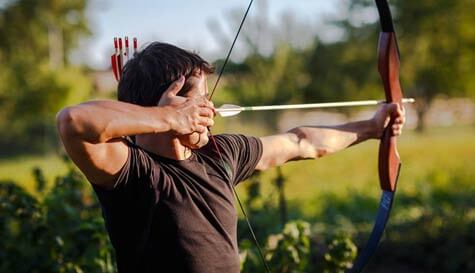 Forget darts, that's for blokes with too much jewellery and overly shiny shoes. No, if you want a real game of "arrows" then we have the perfect afternoon or morning session of potentially deadly competitive stag party sporting action for you.

Back in the day when man's survival skills required more than having the local pizza delivery company on speed dial or wandering to the bar to see if they were out of Scampi Fries (other pub snacks are available), us men had to equip ourselves with deadly weapons, but more than that, we needed to be able to use them and deliver a killing stoke when required. Thankfully microwaves, ready and having girlfriends who can actually cook a bit means we can now view supreme natural skills such as archery and tomahawk throwing. But we're taking you stags back to your roots and arming you up.

After a safety talk you'll be shown the basics of the first of the weapons and then take it in turns to step up and have a few practice shots (don't worry about your mates standing behind you, they're just there to take the p***). Once everyone has got the hang of it and the instructors are confident no one is likely to lose any digits and remove one of the groom's ears ahead of the wedding photos with a bad throw, you'll then take part in a competition.

The added bonus is the fact that you can watch the rest of the lads compete and let them know exactly what you think of every attempt.

This is a superb day of stag banter, sporting competition and potentially deadly weapons!
Why not add even more shades of stag madness to your day with a deal on a second event at our amazing Newcastle activity site?! Game on!
Or why not tackle the Ultimate Stag Day?
Ask our team for more details.