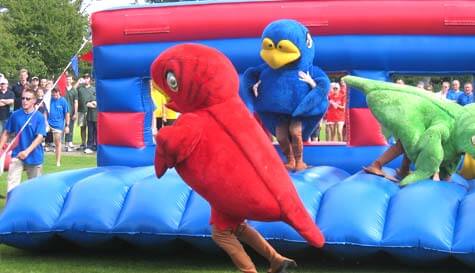 This is definitely not your average sporting contest. Imagine if the Olympic Games committee were locked inside the Newcastle Brown Ale factory for two weeks with only 'Geordie juice' to keep them going... The results would probably end up looking just like our Newcastle stag party inflatable games, but with a bigger opening ceremony.

You'll need excellent teamwork as you face a number of giant inflatable courses, slippery hazards, slime, foam and the potential of watching one of your mates face-planting in spectacular "We MUST upload this to YouTube!" fashion.

Games include:
10 Maids A Milking - A milking relay race. Each team member has to get over and under the cow before milking it and filling the team's giant bucket. Simples!
Caterpillar Tracks - Standing inside the giant caterpillar track the whole team must work together to race to the end of the course and back.
Penguin Pursuits - It couldn't be easier, simply run to the end of the course and go through the hoop while dressed as a giant penguin. Then swap the suit with the next teammate waiting their turn... Go!
Chicken Run - Inflatable course, buckets, chicken pieces and utter madness!
Rapid Run - Simply to get as much water from one end of the "Rapid Run" to the other by loading a raft with as much water as possible and racing to the other end. Sounds too easy huh...?
Ski Funday - A giant ski race where all the stags must stand on the skis at the same time and race to the end of the course. Requires teamwork, precision and at least one sober stag.
Water Works -You'll have a full bucket of water at one end, an empty bucket at the other and the only way to transport the water is by throwing wet sponges between all the team.
Fast Food Frenzy - Damn, someone's spilt all their fast food inside the giant, foam-filled, inflatable course. First team to dive in and chuck out 10 pieces of grub are the winners.

Please note: games may be changed or altered due in bad weather.