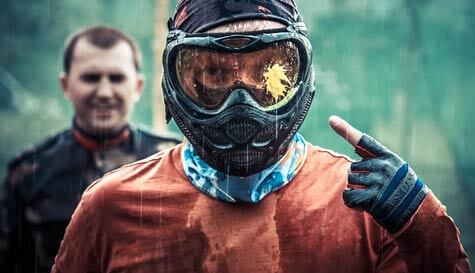 There's a reason our Newcastle stag party paintball is still so popular. It's Epic! Where else can you run around like kids, waving guns in the air and shooting your mates from point blank range "by accident"... Repeatedly? It really is one of the finest weekend activities known to stag-kind and our Newcastle site is one of the best in the UK.

While the lads might think they're a bit tough at Halo or a virtual one man army at Call of DutyThere'll soon find out what they're really made of once the paint starts flying.
"To survive a war, you gotta become war." John Rambo
"Johnny, your tea's ready!" Rambo's Mum
There are a number of epic scenarios and game zones to battle through including;
Wild West Town - You'll need to be quick on the draw in this authentic touch of the old Wild West. "Yipee ki yay mother-lover!"
Fall Out Zone - A post-apocalyptic wasteland of burnt out cars, downed aircraft, abandoned military vehicles... "This town's coming like a ghost town."
Speedball Arena - A totally fast and furious paintball challenge where you'll need lightning fast reactions and great teamwork to annihilate the opposition.
Modern Warfare - Covered in sand, trenches, turrets, sand bags, bunkers and even an army personal carrier and amphibious supply truck, you'll be transported instantly to the modern front line.
But with all that nasty plaint flying around the delicate groom might get hurt, we couldn't have that ahead of his big day so we'll provide him with a costume to make sure all the stags can see him at all times. Well surely his best mates wouldn't take advantage and give him a complete Dulux makeover?
Why not add…
Even more shades of madness to your Newcastle stag do with a deal on a second event at our amazing Newcastle activity site. Game on!
Or why not tackle the Ultimate Stag Day?
Ask our team for more details.