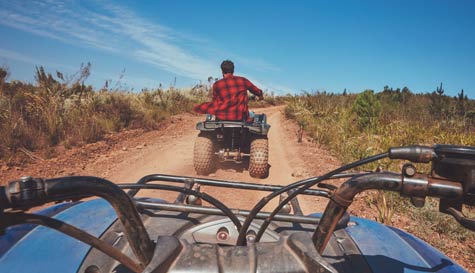 Our Newcastle stag party quad biking site provides over 70 acres of varied terrain, with hills, slopes, forestry and rivers. The purpose-built course really will put the stags to the test, Sunday drivers need not apply.

This is an epic ride perfect for petrolheads, speed freaks and complete quad bike newbies that will pit the guys against a diverse range of obstacles and tough terrain. All with the added bonus of potentially watching the groom park it in a tree!

The high-speed action kicks off with a safety talk and quick practise session as you get used to the handling (we don't want any of the stags to do an Ozzy Osbourne). Then once you've got the hang of things you'll set off in groups of 5. This, of course, means while you're not riding you'll get to see just how the rest of the stags are riding and give them your opinion of their driving skills (or lack of) as you change over. So you can expect thrills, spills and plenty of banter between the lads.

This isn't just quad riding, this is quad trekking which means facing all kinds of manmade and natural obstacles in what is one of the best quad bike facilities in the UK. If you're looking for a little added va va voom to your Newcastle stag do and are prepared to 'rough it' then this is the ideal place to get off-road and face some of the toughest terrain known to stag-kind.