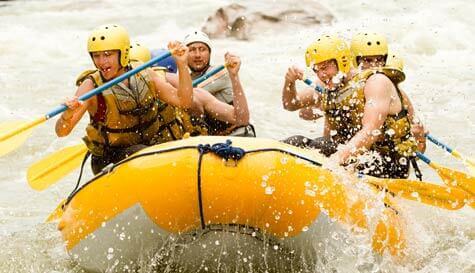 You probably came to Newcastle for its spectacular nightlife, but if you miss out on the epic outdoors adventures available in Tyneside then you're bound to end up regretting it. White water rafting will inject your big Newcastle stag do with a heart-pumping dose of adrenaline as you barrel down a white water course designed to push you to your limits!

White water rafting really is the last word in adrenaline-pumping extreme sports, so if you're keen to really push everyone to the limit with a group of stags who aren't afraid of a little adventure, you're all set! The course on offer in Newcastle truly is one of the best in the UK, so even with water sports connoisseurs in your group, you're bound to impress. One of only two in the country to use a state of the art RapidBloc system and four massive 'Archimedes Screw' challenges, it's totally exhilarating and suitable for those who are familiar with water sports and complete newbies.

Because the facilities here are so amazing, you'll be pulled right back up to the top of the waterfall in minutes via the Lazyboy conveyor system every time for even quicker recovery, which means fitting more action and adventure into your booked slot! We'll try not to scare you too much but this course in Newcastle is home to one of the steepest rapids drops in the UK and there's a super deep channel on site too for even better tricks... Come and have a go at white water rafting in Newcastle - but only if you think you can handle it!