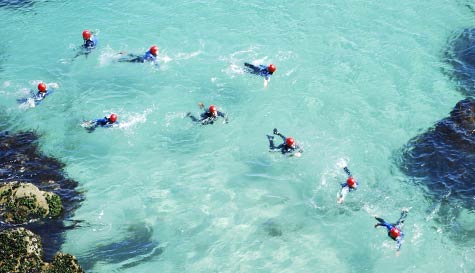 Paintball, aced it. Go karting, raced it. Hooters, been there, worn the T-shirt... Finding new exciting stag activities can be hard. But not anymore!

For any stags about to go west who are looking for the ultimate in stag party dares then they really don't get much bigger than Newquay stag party coasteering. "Epic" is often an overused word in modern society, 'epic burgers' 'epic hangovers', epic explanations from your girlfriend as to why she needs more shoes, but this massive adrenaline-pumping experience truly is EPIC!

You'll be heading out onto the coastland over a series of rock scrambles and climbs and then once you're at the top you'll pause only long enough to take in the simply stunning view and wonder to yourself "Just because Dave's getting married, why does that mean I have to leap off this cliff?" Before you leap off that cliff.

Coasteering is more than just jumping though, (although the brown trouser heights are immense), it's a challenge of getting from A to B using any means available. You'll hit whirlpools, explore caves, climb up and down the cliff face. What's more it the absolute daddy of all hangover cures.

Newquay coasteering is a day the groom and the stags will remember for years to come and will turn a great stag do into a truly legendary weekend adventure.

So if you think you're tough enough and are ready to take the plunge you can get booking today!
Add more laughs…
You can pack even more action into your day by adding another activity. Fees apply for additional activities.