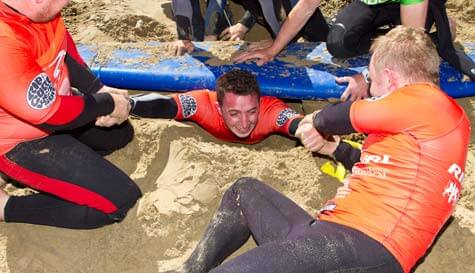 Step away from the pasties and cream teas, chaps. It's time to do battle stag style. And, in Cornwall, that means taking on the epic Cornish Challenge.

You'll be split into teams and then go head to head in a number of crazy games you could only find on a stretch of Cornish beach. We'll turn you into beach boys for the day while ramping up the competition between you. Turning up with blonde dreads and surfboards is optional. Doing lifeguard/Baywatch slow-motion runs is pretty much mandatory.

Some of the challenges you'll face include:
Paddle Relay Race
Surfboard Tunnel
Lifeguard Flag Sprint
Ultimate Frisbee
Beach Volleyball
Aqua Targets
You'll need nerve, skill, accuracy and to possibly cheat like bandits when the marshals aren't looking. When the games are over, the ultimate winner will be decided and then awarded a bottle of champagne.

The challenge is on to make sure your stag team comes out and top and scoops the final prize! Whack on a wetsuit, practice your very best pirate impression and take to the sands for this fantastically fun, once in a lifetime activity that is totally unique to Newquay.
Dial it up a notch…
Be sure to take your weekend to the next level by adding in another beach-based activity for a celebration you won't forget.