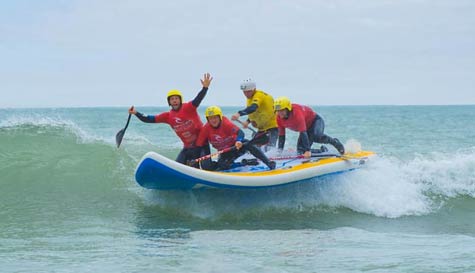 For those of you not in the know…
SUP = Stand Up Paddleboarding
Imagine a man standing on a surfboard and using a long paddle to push himself through the water. You got it.
Giant SUP = Giant Stand Up Paddleboarding
No! Not paddleboarding for giants (*smacks forehead*). This is one giant board that a group of guys can all get on at once. Yeah, Hawaii 5-0 type stuff. This is one of the coolest new water sports on the planet, taking place on one of the most picturesque places in the UK, by some of the most hungover stags in Newquay (that's you lot).
First up, get your kit on for the lads, you'll be given wetsuits, helmets and life vests. Before you can hit the water you'll do some quick safety training on the beach and learn the basic techniques, such as paddling while kneeling, standing and what to do if/when the groom falls in.
It's then anchors wahey as you take to the sea. You'll skim along the coast checking out some of the major wildlife (there are plenty of seals in these waters), winding through the old smugglers coves and rocky cliffs. You'll then try landing onshore and have a few full-action team games to get the banter and accusations flying including King of the SUP, Sumo SUP, dizzy stick and SUP racing. Then you'll try launching from the beach and heading for home. The guys will be able to dive in for a soak and depending on time might even be able to try some low-level cliff jumping.