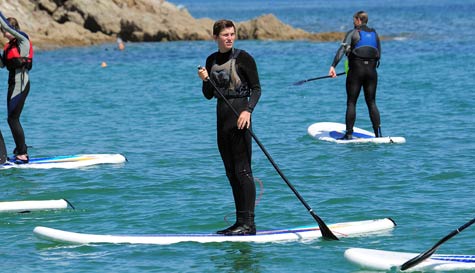 Every good stag party needs some hard core sporting competition, and with our Newquay multi activity day you'll have seven awesome stag challenges to choose from as you go shoulder to shoulder (or hangover to hangover) against your pre-wedding party comrades.

You are able to pick between 2 and 5 of these awesome activities and take the day at your own pace. Focus on just two or take on five different challenges:

Surfing is epic in Newquay and the famous beaches have played host to world championship surfing events.

Bodyboarding involves hitting the waves but rather than standing you stay horizontal on specially designed boards.

Volleyball is your chance to go all Top Gun. Split the lads into teams and battle it out on the sand.

Zorbing is one the maddest activities. You'll be strapped into giant inflatable hamster balls, then with a push from the lads and a little help from gravity you'll be sent bouncing down a hillside.

Archery will bring out your inner Robin Hoods. This is a fiercely competitive sport, especially when played alongside your fellow stags.

Beach football sees the beautiful game take to the beach; a great chance to show off your samba soccer skills.

Stand-up paddleboarding (SUP) is the latest craze to hit the coastline. SUP is perfect for a group activity; you can choose your pace to either experience a calm ride or a high-octane adventure!

The whole day is just like Baywatch but instead of girls in skimpy swimming costumes, running towards you in slow-motion, you'll be surrounded by sweaty stags in wetsuits, trying to overcome their hangovers. Who needs California?!?

Please note: You are able to add a BBQ lunch to your package. Please speak to our team for further details.