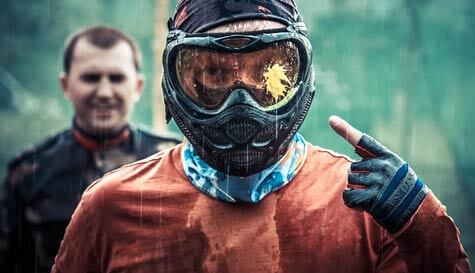 Paintball has been a staple of the stag party for as long as men have been running around woodlands shooting each with high-velocity paintball bullets. Our Newquay stag party paintballing facility features the best, most current kit and a massive choice of combat scenarios, all set against the backdrop of the epic Cornish countryside.

There's a mix of woodlands zones and purpose-built urban zones with bunkers, forts and natural cover in every battle arena. On top of that you'll have a selection of the following mission types to fight through:

Capture the flag - An oldie but a goldie, this classic mission tasks you would-be Rambos with fighting your way through the enemy lines and capturing their flag, sealing victory and glory for all involved.
Medic - Both teams have a medic who can revive fallen teammates. Do you protect your medic or try to take out theirs?
Spy hunt - There's a traitor in your ranks. Can you tell friend from foe?
Fortress - This awesome game zone will require excellent communication as you try to defend your fort against enemy attack. Try to limit the banter during this one!
Kill zone - Capture flags for points. Sound simple? Did we mention they're in no man's land?
Stag hunt - No explanation necessary.
Murder Ball - It's the last game of the day, so settle any grudges with whatever ammo you've got left.