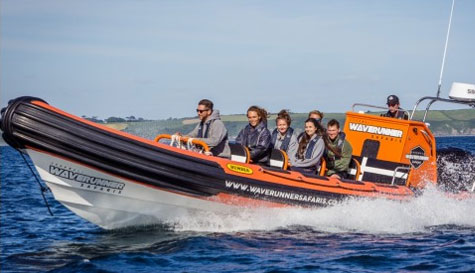 All this sea air should be great for your health and now this awesome high speed, hangover blasting ride will turn those rosy pink cheeks a nice shade of green. If you need a Cornish adventure and want to test the guys to the limit then this ticks all the boxes.
The Savannah is a custom-built 10-metre rib with a phenomenal 600bhp engine! This wave skimming beast is capable of speeds in excess of 60 knots, that's over 69mph. On water! The craft can hold 12 stags, the question is can the stags hold their breakfasts? The pilots are highly qualified and experienced drivers who will make sure the groom and his stags get the ride they deserve. Any stag feeling a bit delicate or looking a bit green will soon be regretting that third trip back to the breakfast buffet.
As well as the amazing thrill ride, this is a superb way to see the Cornish coast from a totally different perspective. If you think Cornwall is stunning, wait until you see it from the water. You'll head along the North Cornwall coast, past beaches like Fistral, Crantock, Watergate, Mawgan Porth and Whipsiderry (beaches and routes may vary depending on weather and tides).
Great for stags looking for a different kind of adventure, this is like no ride you'll find on land and you won't believe how fast the boat feels on the water. The wind, the waves, the spray, the groom screaming like a little girl… You'll also get to come in closer to the shore where you can stop for a swim break. If there is wildlife to be found (and the Cornish coast is packed with marine life) then the guide/pilot will make sure you see the best of it. This is your ride so you can help shape the day and see the things you want to see. Except seeing the groom falling overboard, we're far more careful than that.