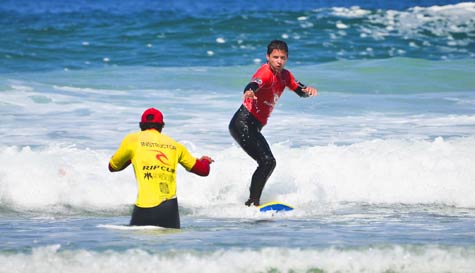 We shouldn't need to convince you of the merits of surfing itself - it's an inherently cool sport, attracting beautiful bikini-clad babes from sunnier shores, and turning even the pastiest lad into a suntanned beach bronzed sculpted god as soon as he manages to successfully ride his first wave.

Of course, you do have to endure a bit of falling off and flopping around in the sea like a very feeble and uncoordinated fish first. That's why you'll want to get the lads down to Newquay for a surfing session. Newquay is indisputably the home of English surfing, so if you were ever hoping to tackle the waves, a stag weekend here couldn't be a better place.

Home to the world-famous Fistral Beach, 750m of surfing excellence with golden sandy beaches and consistently fantastic surfing conditions (reputedly the waves can reach highs of 40ft in the right circumstances). If you need proof of its surfing merits, it's the venue for the annual 5 Star Rip Curl Pro Men's World Qualifying Series event, an international contest with a tricky title but features some of the world's best surfers.

To teach you everything you need to know in order to tackle the countries best-surfing beach, our venue provides world-class surfing instructors - literally; they've represented Britain in the British and European Championships, and have won titles there for their gnarly surfing skills. Whether you and the boys are pro surfers or better equipped to handle an ironing board, you'll be hanging ten in no time with our epic Newquay surfing!
Add more laughs…
You can pack even more action into your day by adding another activity. Fees apply for additional activities.