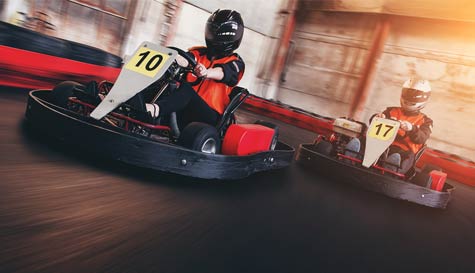 There are no friendships on the go kart track, even on an occasion as dedicated to bro-ship as a stag do - the second the helmet goes on and the chequered flag goes down, you'll need to chase after victory and leave the other lads in the dust, literally.

With go karting inspiring such a dog-eat-dog mentality, it's perhaps a little surprising that go karting is indisputably a king amongst the stag do activities... we guess the phenomenal speeds, the precision, the control, and the sheer adrenaline overcome any lingering feelings of camaraderie. However, if you are going to throw over your friends and unleash your inner speed demon on the pursuit of victory, there's no better place to do it than our Norwich go-karting track.

The karts are as powerful as they are fast, single-engine 390cc Sodi RX7 karts that are capable of reaching speeds of up to 40mph - and trust us, when there's only a few inches between you and the ground, you can feel every bit of that speed. The track itself is a fast-flowing circuits of twists, bends and straights, stretching out for 1070m and allowing for the full potential of the karts to be unleashed. The highway code is thrown out of the window, so it's each man for himself with computerised lap times recording your time up to 1/1000 sec and podium presentation for the winners. The losers, naturally, go home humiliated, ashamed, and owing the first round.