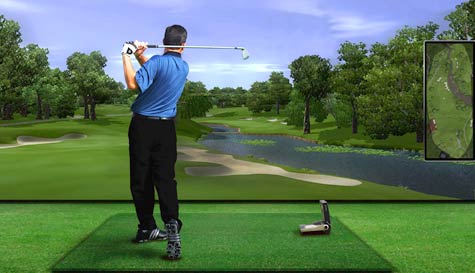 As seen on Sky Sports (where G-Nev and Carra took on our top class coach for a quick round) this amazing Norwich stag party golf simulator is the cutting edge of indoor golf/sports sim technology.
On arrival, you'll meet our PGA qualified coach and share a quick drink and some snacks before teeing up and getting into the swing of things. You can pick from some of the world's most famous courses to play on and the technology is absolutely stunning. Unlike golf sims at home, you'll actually need to strike a real ball with a real club, as soon as the ball has been struck the technology takes over and you'll see the ball take flight from an aerial perspective so it's just like watching your own game with the best sports TV coverage.
You can pick to play doubles, pairs or even games like killer during the 2 hours of game time throughout which the coach will be on hand to help all the stags improve their game for when you all next get out on the course. This is a great way to introduce golf newbies to the game as well as seriously competitive and challenging for those die-hard golfists among the group.
It really is superb, imagine the greatest sports sim game you've ever played, now double it, add 100 and then include all your mates, some pro coaching, free beers and plenty of stags snacks and you're about halfway to just how much fun this is.
Courses available to play include:
2016 Ryder Cup venue Hazeltine Golf Club
2016 US Open venue Oakmont Country Club
2016 Open Championship venue Royal Troon
As well as free beer throughout the session you'll also get some suitable stag snacks including pizza. You won't get served that during a round at St Andrews! Yep, it really is the ultimate way to play golf without even getting wet. Game on!
So whether you are a seasoned golfer or new to the game the fun factor is awesome!