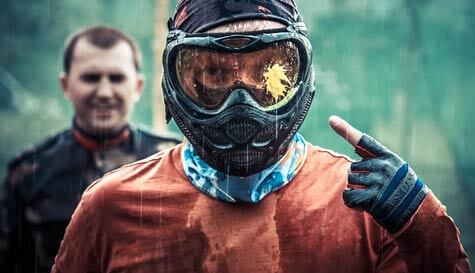 Paintball is a classic stag activity, and it's not that hard to figure out why. For one, it gives you the rare and valuable opportunity to pepper your best mates with paintballs. And secondly, there aren't many activities out there than can match the raw visceral thrill of an intense game of paintball. This is the type of event where stag legends are born; lock and load lads, it's time to go to war.

On your Norwich stag party paintball session you'll take on a truly unique course. Featuring 8 different film-set themed game zones and an all-new 'Zombie Crypt' zone, this is going to be paintballing like you've never experienced before. Once you've filled your hopper with paintballs it'll be time to load your weapon and head out onto the battlefield fully kitted up for action with camouflaged overalls and that all-important facemask.

There aren't many chances you're going to get to shoot your best mates in the happy sacks from close range so grab them with both hands (we mean the opportunities not the happy sacks). With a variety of challenging obstacles both natural and man-made to deal with in the heat of battle, there's never a dull moment on this course. You'll be gun fighting in between helicopters, tanks, towers, trenches and...dinosaurs? But remember to shoot first and check out the sights later!

Norwich stag party paintball is the perfect way to get the lads out of the city during the day before returning for a big night out in the evening. This is adrenaline-pumping fun that's sure to result in big laughs and even bigger thrills. Discover who's a 'Top Gun' and who couldn't hit a cow's arse with a paintgun.