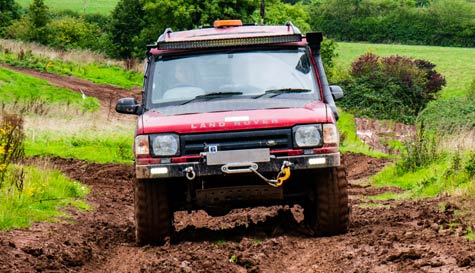 It's you vs the Nottinghamshire countryside in this demanding, unpredictable activity... luckily, you've got one of our powerful 4x4 Land Rovers on your side. If you've already had a crack at quads or karts, and are ready to take on something with a bit more power and bite, you'll want to get up behind the wheel of one of our massive 4x4 beasts, battling the elements and enduring literal highs and lows like no other on this specially designed off-road course.

Forget yummy mummies and their school runs, this is what 4x4 cars are all about, getting up to your axles in the brown stuff and wrestling at the wheel to keep it shiny side up.

4x4 driving is without a doubt one of the ultimate motoring activities. It's fast and unpredictable, testing not only the raw power of the car but also your own control and precision. You and the guys will head out in two Land Rovers where each member of the group will get the chance to prove their driving skills manoeuvring around our course including a variety of terrains, whilst the rest of the lads cling to their seats in the back. Nottingham has to be one of the best places in the country to give 4x4 driving a go, with an entire forest full of steep climbs, hills, water-filled trenches, and deep pits to negotiate. For powerful, challenging motorsports, 4x4 driving in Nottingham can't be beaten.

TOP TIP - Listen carefully to the instructors, if you go all Clarkson and try to win with sheer power you're more likely to park it in a tree. Skilful driving is far more likely to win the points.