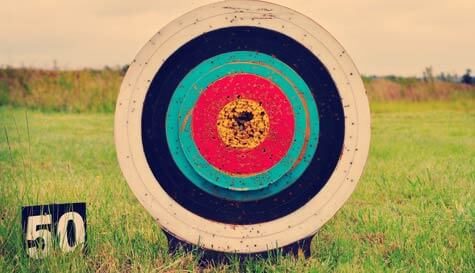 What could be more fitting on a Nottingham stag do than a sporting challenge that dates back centuries? In fact, there's a good chance the lads had their own Archery tournament when Robin got tied down to Marion.

Right in the heart of Robin Hood country you can pick up bows and see which among the lads is the best sharpshooter. We'll let you decide which big-screen Hood you want to emulate;
Russell Crowe - Moody, menacing but what was that accent all about? Robinus Maximus you ain't Russ, stick to that Gladiator stuff.
Kevin Costner - Yep, it's a little known fact that Robin Hood did indeed speak in a Texas accent. Thanks Hollywood for putting us all straight. Apart from that, it's actually a good performance in a great film.
Sean Connery - Cool, suave, manly... Men wanted to be him and women wanted to bed him. A superb Robin, until he too fell foul of the lack of dialect coach. "The name's Hooood, Roben Hoooood" 'ang on?!? Since when was Robin Scottish!?!
Of course, you can do your own good deed, once you and the guys have been shown the basic technique by the experienced instructor, you can then spice up the following competition with a friendly wager among the stags. That way you can steal money from the rich stags and give to the poor bar staff later that night when buying your victory pint.

You can always opt to shoot in pairs or teams to create a team competition and more banter between the lads to the competition.

Robin Hood QI
The earliest mention of England's favourite hero/mugger is in a text dated 1377.
The real Friar Tuck, Robert Stafford was actually a chaplain used the alias "Frere Tuk" when committing robberies in Linfield, Sussex.
The Great Oak of Sherwood Forest (said to be Robin's lookout post) is between 800 and 1000 years old and weighs an estimated 23 tonnes.