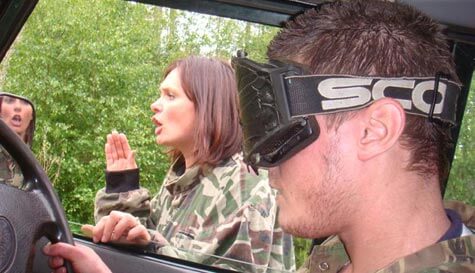 Driving? Easy enough, they let 17-year-old kids do that. Driving an obstacle course? Probably not too hard, can't be worse than trying to squeeze into a parking space two sizes too small, and you do that often enough. Driving an obstacle course blindfolded, whilst your best mate bleats 'the other right!' in your ear? Now you might just have a challenge.

If you're ready to take your driving to the next level, and possibly destroy some friendships at the same time, it's time to get behind the wheel and try our blindfold driving in Nottingham course! No need to worry about mirror, signal manoeuvre here, the only thing you need to be concerned with is whether or not the lads would find it funny to deliberately steer you wrong. Spoiler alert - they definitely would.

Good communication (listening to your mates) and good instincts (knowing when to ignore your mates) are vital, as are nerves of steel. There isn't any room for cowardice or second-guessing since you'll be racing around the course as fast as you dare, competing with the other blokes. This could be a great ice-breaker for groups who don't already know each other well, as it certainly gets the lads talking. Of course, it could just end up ruining friendships, but when it's this much fun we think that's a risk worth taking.