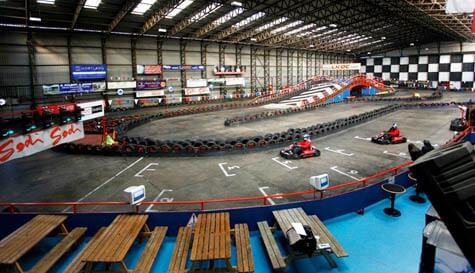 This is one of the Midlands premier karting tracks. Our superb Nottingham go-karting venue is within easy reach of the city centre and offers you and the boys a track over 500 metres of perfect racing tarmac to settle any old scores and prove once and for all, who among you is the Stag Stig and who is the group's Captain Slow.

Everything about the centre is designed to heighten the competition and create maximum thrills and spills. The track is 6 metres wide allowing for constant over-taking opportunities Over the 500 metres there are a 3 hairpin corners, banked cornering, a bridge, tunnel and of course the high-speed straights where competitive drivers can easily reach speeds of up to 40mph (that might not sound fast on a motorway, but when your backside is just inches from the tarmac its bloody fast!). And to make sure speed really is the key, you'll be driving 200cc, 4 stroke Honda karts for added va-va-voom.

The race takes the format of a Le Mans style endurance race. After a few practice laps, you'll line up in your teams (consisting of two drivers per team), as soon as the light goes green it's then wheel to wheel action for 50 minutes. As all the teams go head to head. You'll be racing for 50 minutes and can switch with your co-driver as many times as you wish, the team that completes the most laps over the 50 minutes are the winners. To keep the lads not driving entertained (apart from watching the other lads park it on a wall and near misses) you can follow all the stats on the tracks side telemetry.