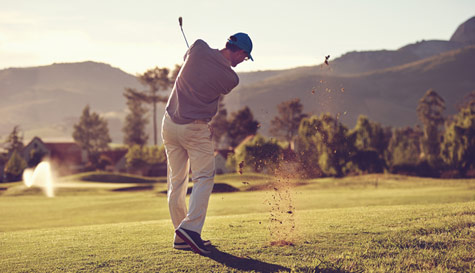 Golf is a classic morning activity for stags that've just had that one pint too many that's tipped them over the edge on the epic night before. Our Nottingham golf course is a great way to cure any tender heads before another big night out. It's also a great way to get those sporting rivalries going again and take on a supreme course, this one really is no 'gimme'.

You'll have to show all your skill with a club to be the fastest stag around this epic 18 hole course and claim the title of stag golfing champion. Our Nottingham golf course is sure to challenge you and the boys to the max as there'll be plenty of obstacles to avoid (or if you're still unsteady on your feet after last night, fall straight into) such as waterways, rough patches, sandpits and impressive lakes.

This is a specially designed course designed by golfers, for golfers, so you know as you and the lads stagger around the course, you're getting the complete golfing experience. And with your own scorecards, you'll be able to keep track of every shot you and the boys take, meaning there'll be no cheeky side-footing the ball into the hole while the rest of the lads aren't looking!

This golf stag party in Nottingham is a banker for a relaxed, banter-filled morning that's sure to get you and the boys fighting fit for the day ahead. Providing plenty of challenge for golfing newbies and pros alike, you're sure to have an awesome time before heading back to the hotel to get ready for another big night.