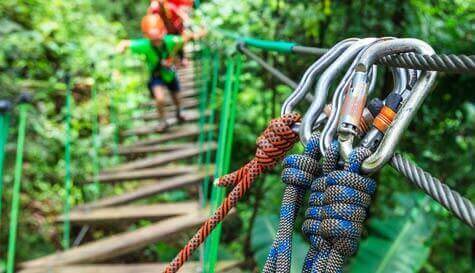 Now while you might not be willing to admit a fear of heights in front of the rest of the (p*** taking) stags, but dangling out of a tree with only a rope stopping you from plummeting to certain death? Or, you know, a broken leg or whatever? Will the guys 'fess up or man up? Our Nottingham stag high ropes course is an epic challenge that with good teamwork will get even the most nervous stags reaching incredible heights and overcoming the obstacles and their own fears.

The specially designed treetop adventure is based 26 foot above the ground and features a number of rope bridges, zip wires and Tarzan swings to send your adrenalin levels through the roof! It's also the world's most extreme hangover cure.

Our superb 909m course has 6 distinct sections and over 40 crossings including tree to tree zip wires.

You'll start on the training course and gradually work your way up to the toughest course which really will put even the toughest stags through their paces. Once back on terra firma stags are free to kiss, hug and promise that ground you'll never leave it again. However extra kudos for any nervous stags that face their fears head-on and conquer one of the UK's premier high ropes courses.