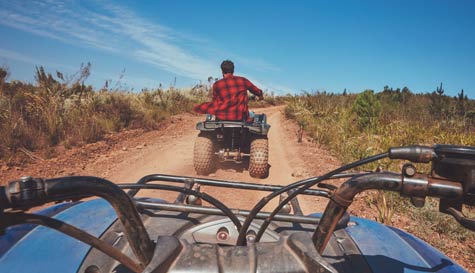 With 150 acres of forest to trek through, dense woodland full of water, mud banks, troughs, slopes, and open straights, there is no place better to experience quad biking than Sherwood Forest. The powerful quads can and will drive through almost anything in their path, which is just as well when you're quadding in Nottingham; the course is two miles long and comes with six distinct stages, each one throwing up a variety of obstacles and terrains to be overcome.

Quad bikes aren't the fastest vehicle you can try on a stag do, but they're not meant to be - these machines are built for trekking over and through every obstacle that Mother Nature can throw at you, and they do that with ease. As you and the lads ride roughshod over the forest, blasting through mud and down 45 degree drops, these quads will take you absolutely anywhere as long as you can hang on and handle the extreme ride. Whether it's your first time trekking or you're experienced pros, the thrill of off-road riding whilst navigating unpredictable terrain in Nottingham will guarantee a ride like no other.

This quad bikes stag party in Nottingham is the real deal and is sure to provide massive thrills and big laughs to boot.