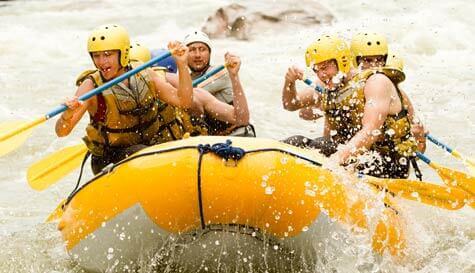 Nottinghamshire is the most land-locked county in England, which by rights should mean that it doesn't have much to offer by way of water sports. However, despite all logic and reason, Nottingham is determined to provide the best standard in stag dos around and so boasts some of the best flat water and white water opportunities you'll find anywhere in the country.

You don't need to be in a coastal city in order to make a splash on a stag do, and this rafting centre, originally constructed for the Olympics, is one of the best in the world!

White water rafting is an old yet extreme stag classic, sure to get the adrenaline pumping and the knuckles white as they grip on for some of the most exhilarating, high octane stag weekend fun around. This is the ultimate way to kick start an adrenaline-fuelled stag party!

Our purpose-built centre is set in 270 acres of Country Park, with an amazing white water slalom course for you and the lads to race down in a thrilling, exhilarating water sports session. The course itself is not for the faint-hearted; a 700-metre course that's going to require all your skill, nerve and effort in order to stay afloat. It's wet, extreme and intense, providing a fantastically unforgettable and incredible stag weekend the lads will be laughing about down the pub for years to come.