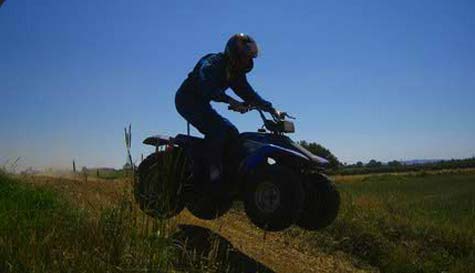 There's a reason that our Oxford multi-activity day is popular: it's totally epic! Set over 50 acres, this beautiful activity site in Oxfordshire is the perfect backdrop for an unbelievable day out that will go down in stag do history. The great thing about picking a multi-activity day is that with a variety of awesome options, there is something for everyone. As the old adage goes, why settle for less?

You are able to choose between 1 and 3 incredible activities from the following:
Quad Bike Trekking - Saddle up and take on an off-road safari on the back of a four-wheeled, engine-grunting beast of a machine. This is the ultimate test of your riding ability and you'll be faced with seriously challenging natural obstacles. "Watch out for that tree..."
Honda Pilot Buggies - Known as the ultimate off-road vehicle; these 400cc mid-engine automatic racing machines are fiercely rapid. You have time for a practice and an all-important time trial around the course.
Off-Road Go-Karting - Put your foot on the accelerator, feel the speed and have fun on this dedicated outdoor track - remember: "if in doubt, flat out."
Blind Driving - Rely on your so-called mates to guide you in this nerve-wracking yet thrilling activity that redefines 'blind spot'.
Air Rifles/Pistols - A total test of self-control and self-discipline, not to mention pinpoint accuracy. Sort the crack shots from the crap shots in this sharpshooter's dream come true!