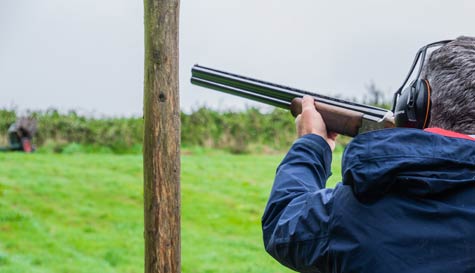 Create your own stag party big bang theory and some epic sporting action at our Oxford clay pigeon shooting site. The stunning location is perfect for experienced shooters and clay pigeon virgins with expert instructors on hand to make sure everyone gets the most from their experience.

And it really is a superb experience. Where else do you get to let a few rounds off a double-barrelled shotgun? Try it down the local park or on the windows of your local Waitrose and you can be fairly sure you'll be asked to get intimate with the pavement by the local boys in blue.

Clay shooting newbies are in for a fantastic competition and there really is nothing like giving the command "Pull!", hearing the trap release, seeing your targets, following, gently pulling the trigger and then feeling the huge recoil of the 12 bore shotgun as you see the clay explode in a cloud of clay dust.
Get more bang for your buck…
You can add even more activities at this site for a full day of stag party action.
Each stag will get 32 clays in order to hone their skill during your great Oxford stag party clay pigeon shooting competition. You can really make a day of it by asking all the lads to dress in tweed and flat caps. Country gent style and set your own prize for the winner and forfeits for the losers.