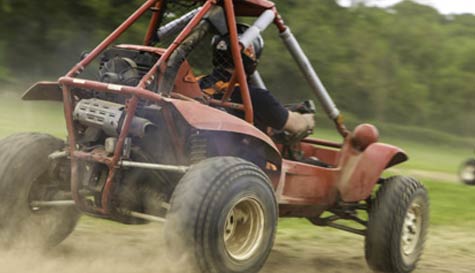 Our Oxford honda pilots are the ultimate off-road racing experience. You and the boys will take to the wheel of 400cc monsters in an extreme sprint to find who the stag party's king of the wheel is.

And when we say monsters, we mean it, specifically 'Frankensteins'. These bad boys are vehicles that have had all the fast and furious bits of other track destroying beasts hammered together to create a devastating off-road racer like no other.

The Honda Pilots, or as we like to call them 'the track demolition machines' have 400cc engines from a motocross bike. They've got racing car chassis, precision hand controls and a full roll cage. They're basically the end result of a few mad engineers thinking 'how do we make something with four wheels go very bloody fast on virtually any terrain'.

We'd buy those mad engineers a pint if we met them because these pilots are phenomenally fun to drive. You'll get a practice lap on your session to get over the initial 'holy crap' moments you'll get from driving these beefy four-wheelers.

Then, it's race time. All the bragging rights are on the line. It'll take all the driving skills you and the boys have got to power your way around this track in the fastest time, earning yourself the title of 'Stag Stig' as you do so. But be warned, these unforgiving machines might also show up your groups 'Captain Slow'.

Honda pilots are fantastic fun and a sure-fire way to scratch everyone's 'need for speed' before heading back into town for the big night ahead.