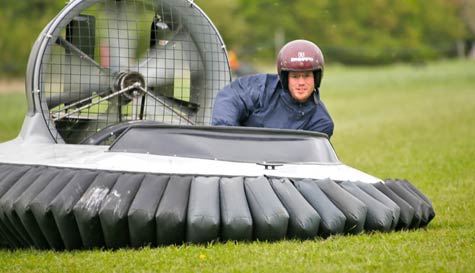 Whether you're a racing pro or you're still on L plates, every stag worth their salt should have hovercraft racing on their stag do bucket list. It's unlikely that any of the lads have tried hovercrafting out before and the learning curve will leave some heads spinning (literally) while others speed across the mud and grass as if it's pristine tarmac; our Oxford hovercraft racing is the ultimate stag testing ground.

Put down the controllers and forget everything you've learnt out on the virtual race tracks of Forza and Need for Speed; it won't help you here. Mastering these 600cc beasts is no mean feat, especially when you're hitting speeds of up to 40mph with no traction control to speak of. With the help of our experienced marshals you should at least be able to avoid running into any trees by the time you head out onto the race track to set your best times.
The groom might fancy himself as a Mansell or Senna but he'll be doing well to go in a straight line when he first climbs into one of these epic vehicles. There'll be plenty of hilarity as stags wipeout and veer wildly off course while they're getting the hang of these bizarrely awesome contraptions. Stags and Stigs alike will have a blast getting to grips with their hovercrafts and be off setting personal bests to brag about down the pub in no time.
More speed, more action!
Add even more activities at this site for a full day of stag party laughs.